The cost of respraying kitchen cupboards in South Africa varies widely depending on a number of factors.
Obviously, each company has a different cost structure. The cost depends on the size of the job, the type of surfaces that need to be painted, the kind of wood, the color you choose, the distance to the job location, and repairs that need to be made to existing cupboards.
We do our best to offer a cost-effective solution for all homeowners. With the advancement of various technology like door wraps, and low cust built-in cupboards, we have had to compete on many fronts – price being one of them. We are able to offer some of the cheapest respraying prices you will find in South Africa – WITHOUT sacrificing on quality.
How To Calculate How Much It Will Cost To Respray Your Cupboards
It's fairly simple to calculate how much it will cost to respray your cupboards. We have been doing this for so long that we are able to offer a fairly accurate estimate, simply by looking at pictures that you send us.
Below are the steps to follow If you would like to try this yourself. Feel free to send us the measurements, calculations, and pictures so that we can confirm if you've done all the measuring and costing correctly.
First things first. You're going to need:
How To Measure Kitchen Cupboards
Take your measuring tape and measure all the surfaces of the cupboards and fixed panels that will need to be resprayed or painted. This includes all the removable cupboard doors, the cupboard carcasses/skeletons that are not removable and will need to be painted on site.
Don't forget to measure the toe kicks, skirting, roof panels, dividers, and soffits. Only if you want to change these of course. Although, we do always recommend that you update other parts of your kitchen at the same time as your cabinets. This helps you ensure consistent colors and design across your kitchen.
Draw a table that looks like the one below, and record the height and width of all the panels in millimeters for better accuracy.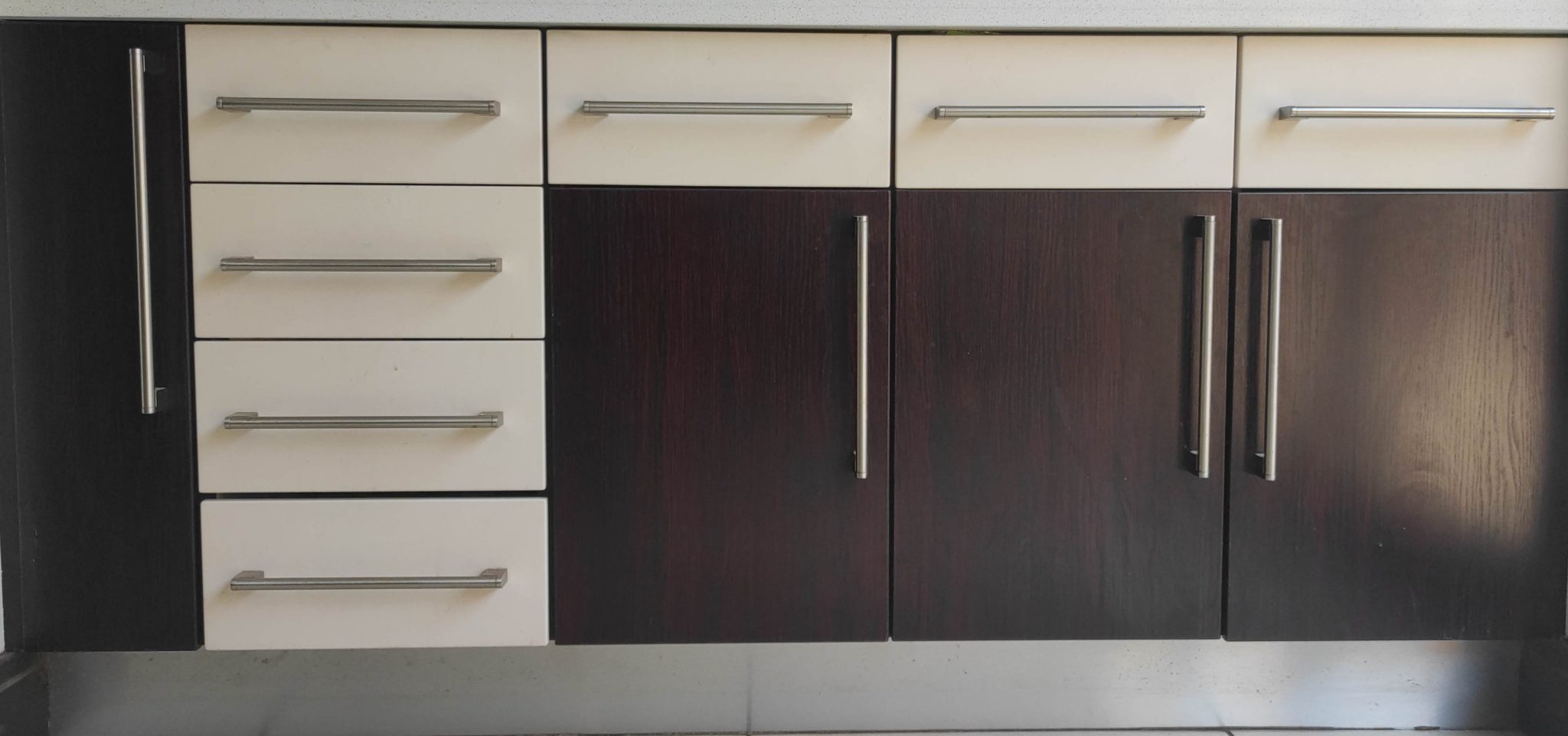 | Height (mm) | Width (mm) | Area (mm) | Area (m) |
| --- | --- | --- | --- |
| 800 | 200 | 140,000.0 | 1.4 |
| 200 | 400 | 80,000.0 | 0.8 |
| 200 | 400 | 80,000.0 | 0.8 |
| 200 | 400 | 80,000.0 | 0.8 |
| 200 | 400 | 80,000.0 | 0.8 |
| 200 | 400 | 80,000.0 | 0.8 |
| 200 | 400 | 80,000.0 | 0.8 |
| 200 | 400 | 80,000.0 | 0.8 |
| 600 | 400 | 200,000.0 | 2.0 |
| 600 | 400 | 200,000.0 | 2.0 |
| 600 | 400 | 200,000.0 | 2.0 |
| | | 1,440,000.0 | 14.4 |
The simpler way to do this is to take the entire height of 800mm x width of 1800mm gives you 14.4 square meters. This approach will give you an estimate. But remember, the more panels involved, the more work and labor time. Each drawer and handle will need to be disassembled individually.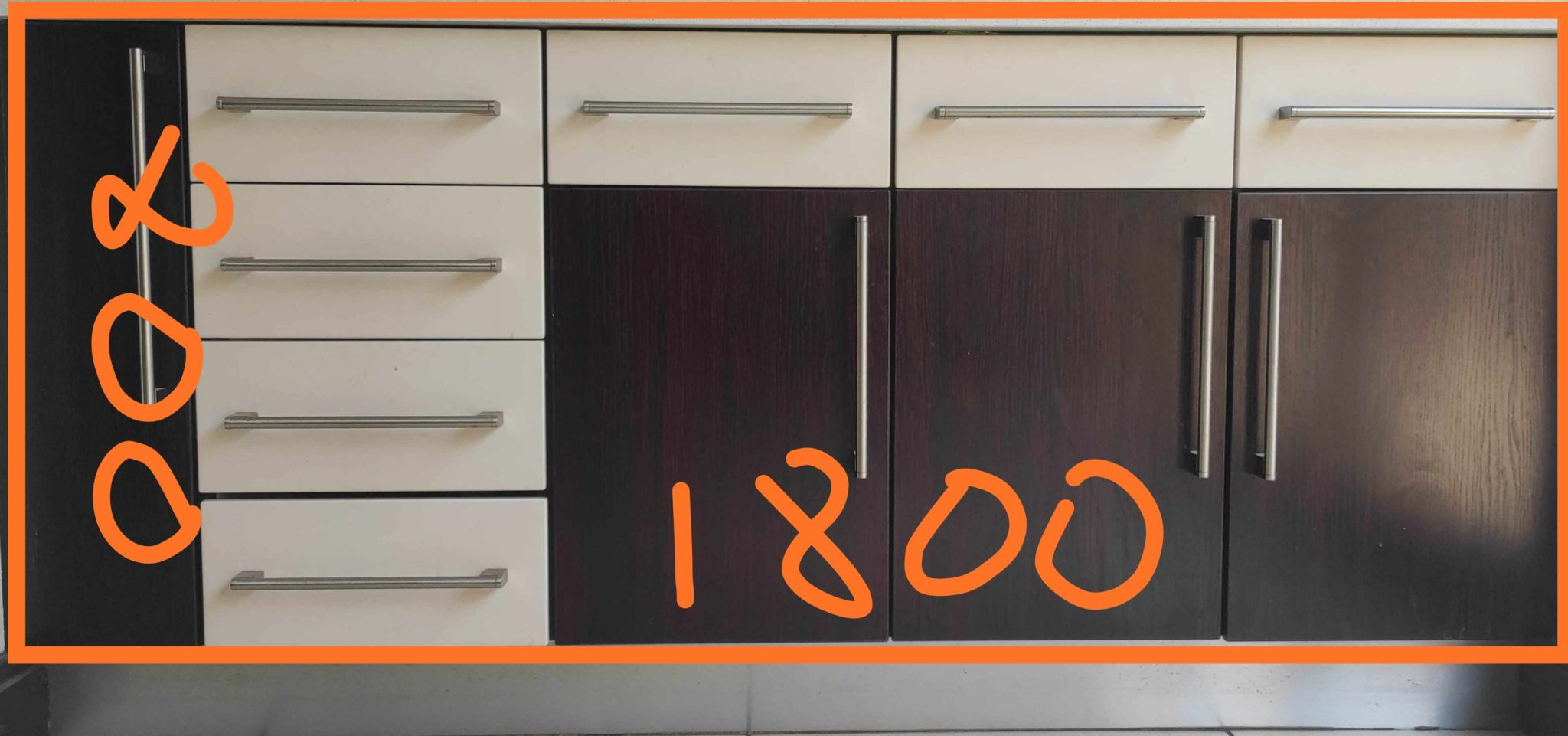 Remember To Double The Surface Area
When you respray your cupboards, both sides will need to be prepped, primed, and sprayed. Remember to double the area that needs work. In our example, the final area is 28.8 square meters.
Cost of DIY Cupboard Respraying In South Africa
Now that we know our surface area, let's round up to 30m² for both simplicity and spillage. I've estimated the following costs for the average Joe Shmoe to complete this project.
| Item | Cost |
| --- | --- |
| Paint | 1,900.00 |
| Primer | 1,800.00 |
| Sandpaper/ Groundsheet / Other | 1,000.00 |
| Cheap Sanding Machine | 899.00 |
| Cheap Airless Spray gun | 2,900.00 |
| Time | 5,600.00 |
| | 14,100 |
This does not include any repairs to existing damage, or repairs to inevitable damage caused by you trying to complete this job in a non-controlled environment. Good luck with that. The spraying environment and technique is arguably the most important aspect.
This small task would take our team of professionals at least 5 working days. How long would it take a single Joe Shmoe?
Cost of Professional Cupboard Respraying In South Africa
As I mentioned before, there are many variables to calculating an accurate cost. This is why we do not provide final quotations from pictures, without first physically inspecting your space. As a general rule of thumb, the cost to respray kitchen cupboards ranges from R600/m² to R1200/m². For your reference, the above kitchen cupboards were completed for a total cost of R22,500.00 at R750 m².
Included in this cost:
Get Your Quote
As professional interior and exterior painting contractors Getting a quote from us is simple. Send us a message directly on WhatsApp and following the instructions. Once completed, (takes less than two minutes) one of our professionals will contact you to arrange an inspection of your property and provide you with an accurate and fair quotation.
We do high-end kitchen renovations and remodeling in Cape Town, Durban, and Johannesburg